2001 Meriden Daffodil Festival
Apr. 2001 by G.Gone
It's been a while since I've attended a festival where the music was the showcase. This past weekend I attended such a festival, and while the music did not start out as the central theme, the music coordinator did such an amazing job that one could not overlook the fact that the music had indeed become the festival.
The Meriden Daffodil Festival, held in Meriden, CT has a rich 23-year history and all the "County Fair" trapping to go along with it; A 135 unit parade, Arts & Crafts, Carnival rides, a 5K road race, the Little Miss Daffodil contest, a food tent (with over 100 kinds of food!), clowns, magicians, ice carvers, pony rides, fireworks, and over 599,999 Daffodils in bloom over the gorgeous, lush landscape of historic Hubbard Park. But it was the music that drew me to it this year; the 1st time I've ever attended this Festival, an annual event that began when I was a teenager.
Rob DeRosa gets kudos and the highest of praise for his efforts as music coordinator. Through his vision of support for local musicians, who in turn, help to support the Festival, Rob was able to expand this years production to 26 bands on 3 stages over 3 days. If the Daffodil Festival had an identity problem before, it doesn't have to worry anymore, Rob DeRosa has given the Meriden Daffodil Festival the credibility to bring people back for more. I think in time, local CT music fans and artists alike will come to view the Meriden Daffodil Festival as the "Official" beginning to the summer music scene in CT, and both will make the effort to attend.
As for me, I was able to make 2/3 of this year's Fest (prior commitments forced me to miss Sundays line up) and while that limited the amount of bands I saw, it still gave me enough time to drink in my share of musical bliss. An overview:
Friday night was a special show to promote alcohol and drug free events for youths. Hosted by the Meriden police chapter of DARE (Drug Abuse Resistance Education) it opened with the band Swyft from Winston-Salem, NC bringing their clean-cut image (all members sport crew cuts and white t-shirts) and Hardcore sounds to the youths who had gathered early. From my vantage point the muddled mix effected my appreciation of the band; who was laying down some solid grooves of bombast sound. Their lead singer used his voice in ways that would torture my vocal chords, carrying the songs with melodic flair he would then break into the much-fashionable death metal scream that would rip ones throat to pieces. While celebrating such causes as women's rights (an anti-rape song) and alternate ways, other than violence, of dealing with teen angst, Swyft had the ever-growing crowd moshing even though we could've used a much cleaner sound.
Following Swyft was New Haven's Mollycoddle. For those who looked up and snickered "What's this, a chick band?" well, little did they know that Heather Orser (bass) & Ralna Ramse (Guitar) are not a chick band. These Rock Goddesses pummeled the crowd with a sonic assault of ROCK that had even the most skeptic of teenage boys head banging. Splitting their set between songs off their CD Lucky and newer material, they had me in awe of their ability to command the stage with just the pounding lead of Heather's bass, and the furious shredding of Ralna's guitar. Highlighting this fully charged set was the debut of a new song; "Walter's Pants" which receives 5 stars from this listener.
Ironic moment #1: In-between sets, after Mollycoddle and before Gargantua Soul the sound man was pumping some NRBQ over the system while the stage was being set up. NRBQ was the following (Saturday) nights headliner. I'm not sure if it was a tape or CD, but the song "Wacky Tobaccy" came on. It took a minute or so before it was realized and yanked (remember this was an anti-drug & alcohol event). I believe most of the youth there were too young to be familiar with the song (a NRBQ staple from the 70s) and it literally flew over their heads. As I overheard the soundman trying to explain that he's so accustom to the song that the meaning had been lost on him, and that he didn't even realize it, I had to smile.
Gargantua Soul took the stage to a packed crowd of teens (and parents) who totally ate up the amazing sound coming from the New Haven Crew. Kris Keyes in full body paint was in prime vocal form as he carried the music and the message over the top of the body surfing and moshing crowd. Combining most of The First The Last The Tribe CD with several new songs, GSoul delivered a tight musical set that demonstrated Hardcore/Rapcore and Heavy Metal should not be the only tags placed on them. This set was some of the best Hard Rock I've heard in ages, eliminating the grating edge of Hardcore that can work against it, and using Marc Amendola and Jason Bozzi's guitars to produce purer musical sounds then those associated with Heavy Metal GSoul ROCKED with abandon. Feeling the rhythm and feeding off the vibe, both crowd and band came together as one, a Tribe as the band is fond of calling their legion of fans. A Tribe that listened as Kris Keyes, the Shaman of Gargantua Soul, sent out the message of unconditional love, of the fight against evil, of corporate driven negative politics and commercial television (the unreleased "Calling My America" – A real anthem of youth with such a positive message that I wouldn't be surprised if Corporate Rock-n-Radio would be afraid to play it), of one's belief in ones self, and ones duty of love and respect not only to ourselves, but to our fellow man. Yes, the GSoul was alive and kicking…
Ironic moment #2: Keyes descended into the pit & gathered the tribe in a circle, as he told how he has been clean for 15 years, I couldn't help but to notice the smell of pot in the air. The rebellion of youth is alive, and that can be a good thing, if that rebellion is directed in the right way.
It was another mild moment of irony which had a place in this amazing evening of ROCK, punctuated by the positive messages of the Meriden police Dept.'s DARE division and Gargantua Soul; who should be given the chance to deliver their beliefs to every person in not only America, but the World. It was obvious that here is a band on a mission, and they are carrying it in a medium that should reach the greatest number of impressionable youths, it's a shame that most adults and those Corporate executives who control 90% of the airwaves (both TV & Radio – and if we don't watch out, to some extent the Internet) can't see past the Hardcore/Rapcore/Heavy Metal labels and really listen to the band, a band that is trying to create more than just great music, a band that is trying to create a better world.
As Kris emerged from the pit, being body surfed by the Tribe back to his rightful place at centered stage GSoul launched into their most powerful anthem against evil, "Drive". Listen to it. Let it make you a better person, and then you can help to make a better world.
Walking out of the park under a blanket of stars it felt good to be alive, I couldn't wait for what the next day's events had in store.
Saturday found me (now in accompany of my family) once again in front of the Bandshell stage sitting on the grass of beautiful Hubbard Park. On stage, the first act of the day, New Haven's legendary band The Mocking Birds. Playing a tight set of Roots Rock-n-Roll the Mox mixed in the 3 songs from their latest EP, Ten Thousand Nights with older original material and a healthy slice of songs from Lead man James Velvet's solo CD Bones 'n Clones. What a way to begin a gorgeous day! About the only thing disappointing about this solid set of infectious, melodic, jamming Rock-n-Roll was the sparse crowd of early arrivals that were able to enjoy.
It was now and time to hit the food tent. The longest line was found at the fried dough booth and was well worth the wait, not to mention the vast array of other assorted delicacies. Sitting down we ate and relaxed as The Gonkus Brothers entertained the crowd from the Food Tent stage. Afterwards a leisurely stroll through the many Arts & Crafts booths caused us to loose track of time…
By the time we managed to sit in the bleachers in front of the Welcome Stage, Renowned CT native Mark Mulcahy was half way through his set. No matter, from his original cover of Tommy James & The Shondell's Crimson & Clover, to his signature "4 Feet Away" (the theme song from Nickelodeon's The Adventures of Pete & Pete – forgive me if I have the wrong title) and his improvising based on various passers-by (one being the parking lady who gave him a hard time), along with a wealth of material from his various CDs, we again were treated to an amazing talent of home grown music.
The kids needed to get on some rides and this worked great (or so I thought) the Carnival rides were set up on the massive lawn outstretching from the Bandshell stage. I could watch them ride and listen to The Manchurians at the same time. Wrong. After 40 minutes in the Ferris Wheel line & another 10 at the Tilt-A-Whirl, and another 10 at the Swings the – what seemed like wonderful – sounds of The Manchurians were lost in the shrieks and freaks of adolescences having the time of their lives without a care for who was on stage. As we finally made our way back over to the stage, the set was over.
Graham Parker was due on next so we found a close spot, set up on the lawn and relaxed until he took the stage. Playing solo, he did 18 songs mixing acoustic and electric guitar, not to mention harmonica for accompaniment – Except for "Cupid" which was done a cappella. Using a mix of old, new, very old (a 26 year old demo he forgot about and had just relearned), very new (he debuted 2 brand new songs), and covers (The Dead, Dylan, Peter Green), he peppered the set with friendly and personal banter that fit the mood of the day perfectly. His voice was in fine shape and sounded just as full and lush as always, giving both old and new songs that distinct Graham Parker air. I decided against waiting in line afterwards as he signed autographs, in favor of another trip to the food tent for another taste of CT before NRBQ took the stage.
Fully fed we once again trekked across the Hubbard Park grounds back to the Bandshell stage, but this time, unlike the Mocking Birds set and to some extent the Graham Parker set, the great lawn was a sea of people. Carving out a small niche to lay our blanket, we settled for just hearing the raucous groovin' sounds emitted forth by a band that has been a CT staple for over 30 years now. It brought me back to the first time I had seen NRBQ, it was in 1977 at Toads Place in New Haven. And, while I was quite shocked by the amount of gray hair I could see on stage (forcing to admit my age as well), laying on the grass, closing my eyes and listening to the pure sounds rolling over me, I was back at Toads Place all over again and I realized that it didn't matter how much time had changed the members of the band because time had not changed the music. As I danced with my daughters to "Get Rhythm, RC Cola and A Moon Pie, I Want You Bad" and a host of other NRBQ classics I was as carefree and happy as I was 30 years ago, and I felt just as good to be alive as I did the night before.
Later, standing on one of the hills watching one of the most beautiful fireworks display light the night sky, NRBQ finished up their encore, and my family and I Oo'ed and Ah'ed as we basked in the glow. A glow that not only lit up the night sky, but lit up our souls as well. As we walked to the car, I silently regretted not being able to return on Sunday, to once again allow the joy of music to overtake my soul.
Next year.
My apologies to all the Artists I did not get a chance to see/hear, or mention. And once again, many Thanks to Rob DeRosa for his amazing job in coordinating the music, Hats off to you Rob!

---
Roll Away The Stones.
04-04-99 by: G.Gone
The Rolling Stones brought their "No Security" tour to my state recently. They played 2 sold out shows at an arena; capacity: 18-20,000 (depending on the seating arrangement). Ticket prices: from $90 to $125 each.
This got me thinking. I personally have avoided the Rolling Stones for over 2 decades now, the reason being a monumental show that I attended in 1978. It was just after the release of "Some Girls" & The Stones had a chart buster for the first time in years. So it was time for an all out Stadium tour. Well, just 1 week before graduating High School myself & a few buddies blew off the traditional Graduating class weekend party & set out for JFK Stadium in Philadelphia, a 4 hour train ride & a Road trip that changed the way I saw the world.
The following is an abridged account of that impact, written some years after the event....
> Just a week earlier The Rolling Stones had released "Some Girls". It quickly became their biggest selling album in almost a decade. The Stones, a legendary band that had faded into mediocrity, were still great to us. Many parties were held with The Stones on the stereo. Now to have the chance to actually see them, this was the ultimate. During the late seventies we saw a lot of bands in concert, but to get to see a legend was rare. Bands like Led Zeppelin, Pink Floyd, The Who, and The Stones toured infrequently, especially in our neck of the woods. So when we heard that The Stones were going to play Philadelphia, a four hour train ride away, and it was merely four days before graduation, it was a no brainer, we were there.

On the Friday two weeks after the Prom and the official start of the graduation party(ies), a short five days before the ceremony itself, the five of us hopped a train. The first thing we did after disembarking in Philly was to get a couple of Cheese Steaks (How could we not?). Then for convenience sake, we hit a local McDonalds to stock up for the long night of partying ahead. Being experienced in this sort of thing, we knew that a McDonalds hamburger would last longer and taste better after twelve to eighteen hours without refrigeration, than just about anything else. Each of us purchased a dozen burgers and then we jumped on the subway headed out to JFK Stadium. Even though it was only four o'clock in the afternoon on the day before the show, the subway car was filled with Rolling Stones fans.
Emerging from the depths of the subway terminal we were confronted with a sight that left us in awe. It was almost a feeling of Woodstock. I say almost, because as far as sheer numbers of people, this did not come close. (Later reports estimated the crowd at approx. 100,000). At four o'clock in the afternoon there had to be at least thirty thousand people already camped out around the stadium. After taking in our fill of this awesome sight we started towards the stadium gates. Winding our way through the massive amounts of tents, grills, kegs, blankets, and sleeping bags. Walking through this congregation of humanity one thing was evident, this was the biggest party we had ever attended in our lives. As far as the eye could see there was a party, spread out all over the stadium grounds and parking lot. From two and three people over here, to two and three hundred over there.
Another thing that amazed us was the presence of the sixties hippie generation. Why this was so amazing was the fact that up until that day, We, as social partying teenagers had never been privileged to be in the company of this monumental counter-culture. As we had entered our teens (around 1972), the hippie drug culture had all but disappeared. In reality though they had gone underground. Their numbers might have shrunk, and society in general may have rejected them, but they still thrived and they were here to carry on their message by simply partying with us. Cool.
And cool it was. I met up with Deb in the parking lot some time around seven o'clock and we spent the night together. We all partied most of the night. We walked all around, always getting invited to party along with any group we happened to be passing by. Everybody was mellow. Everybody was groovin'. I realized this description may sound a little out dated, but that said it all, Groovin'. Listen to the song by The Young Rascals of the same name, This was it.
Being without sleeping bags we crashed on the sidewalk surrounding the stadium. Then around seven AM, we experienced an event the like I have never been involved in since. Groggily something stirred me out of my party induced stupor, As I arose I noticed my friends arising as well. Suddenly we noticed not only were we arising, but it seemed as if every person there (now numbering at least sixty thousand or more) were arising along with us. That was mind blowing in itself, but not only was everyone waking up, they were quickly rushing the stadium gates. The spot we were in was directly between the majority and the gates. We had to move fast or within minutes we would be crushed. Gathering up what was left of our party materials we were swept up in the wave and carried along with it to the locked gates of the stadium. There we were left to stand shoulder to shoulder, chest to back, for the next four hours. Oh yea, I forgot to mention, as we slept it had begun to rain. So here we were, frazzled from the night of parting, soaked and miserable from sleeping on the sidewalk in the rain, and standing with sixty thousand or so others, who felt the same way, as more people gathered to get inside. What were we to do?, except party on.
Once inside we settled down on some benches about half way up on the side and waited for the show to begin. After a few no name opening acts, Peter Tosh got on stage, and began a Reggae set that was not well received by the crowd. With the exception of the song "Legalize It" a pro pot anthem, during which he tossed buckets of Ganja spliffs into the audience, he was mostly booed. Next up was Foreigner. Riding the success of their self titled debut album in '77, with the hit singles "Cold As Ice" and "Feels Like The First Time", they were about ready to release their second album "Double Vision". When they hit the stage, they ROCKED. From the first song to the last, for a full sixty-five minutes they blew the doors in. The Stones couldn't have picked a better band to open for them. Foreigner had whipped the soaking wet, over partied crowd into a frenzy. All the Stones had to do was get on stage and pick up right were they left off.
What followed was one off the most disappointing moments of my life. They Sucked. The Rolling Stones Sucked. They arrived by helicopter, ran on stage and began playing one of the most uninspired sets of music I have ever heard. The sound mix was horrible, Mick Jagger's vocals sounded wretched, Keith Richard's could hardly stand let alone play guitar. Ron Wood didn't even seem like he was playing, or for that matter, even interested in playing, and Charlie Watts just looked and played like he was pissed.
Fifty minutes, that's all, no encore, nothing, they were gone. The people were stunned. We filed out of JFK stadium dumbed and numbed.
My friends and I didn't say much to each other as we headed towards the subway. We didn't know what to say, the shock of disappointment was still too fresh. I said a long good-bye to Deb, never realizing it would be the last time I would ever see her. I was too blown away by the events of the last thirty six hours to even consider that remote possibility.
On the train heading home we mostly slept, not much conversing. I took to contemplating the subtle symbolic references we had encountered and tried to apply some coherent significance to them. Too much thinking for a too fried brain. I didn't come up with any sort of eye opening revelation that day. I eventually put it aside and slept. We slept the whole train ride home. Except for the one time that a "Man" came through the car and announced; "Hey Man, we're taking over the last car man, and like, we're gonna party, man. You guys went to the Stones, man, didn't ya's? Yea, crazy shit huh man. I can't believe they were that bad, man. So anyways, man, we're like gonna party our bummed-outness away, man. Come on back and join us, OK, man."
"OK, OK we'll see ya in a few minutes," we replied and then went back to sleep, man.
Only with the wisdom of time have I been able to find the answers that I searched for on that train. We had been failed by our ideals. The real world didn't care about us, all it cared about was our money. Madison avenue had climbed into our pockets through our culture. Corporate America had infiltrated our ranks and was getting rich off keeping us oppressed.

I was leaving the sheltered world of Childhood and joining the Real world in a few short days, and everything that I grew up with was dead on. It was not all some crazy mixed up scripted television movie of the week. It was real. The hippie drug culture and all their speeches, protests, both social and political, and the upheaval that ensued had been right. Why care about a society that did not care about us. The Establishment had failed us. It led us to believe that they cared about us, but all they really cared about was controlling us and our money. Here the parallel symbolism is the Establishment and the "Rolling Stones".
We watched the generation of the sixties try to withdraw from mainstream society and take care of themselves. Their view being; that any society that would force you to kill or be killed over something that you did not believe in, was not a society to belong to. So they tried to set up their own society. My generation thought they lost, gave up, but they didn't. They were still carrying on and they had come to the Stones concert to give us their support even if the Stones didn't.
My friends and I had chose not to party with the social circles of our school friends, secluded comfortably away from Adulthood and the awful realities of life. We went out and met it head on, we exposed it, and it was clear what we were getting into. Before graduation we knew the cold hard facts of the real world. It's all a game. A game that I did not want to be involved in, even though I was. I could see that I was about to be sucked into a life I was not prepared for. <
Sorry to be so overindulgent, but I needed to share this, so that people may understand my contempt for the Rolling Stones.
Every show means something to some one in some way, & every Artist who takes our money to perform for us, should always at least *TRY* to give us the very best they can. IMO, that's what separates an Artist from a mere entertainer out to make a buck.

---
Woodstock, is that you?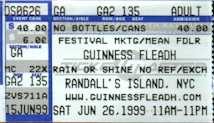 (a review of the Guinness Fleadh).
06-28-99 by: G.Gone
In a few weeks there will be a music festival held in upstate NY to commemorate the 30th anniversary of "Woodstock". A big corporate sponsored mega dose of industry capitalism packaged and sold to us as a "celebration" to honor the legacy from which it derives it's name. But, it's name is the only thing it has in common with that eventful August weekend in 1969, when what started as an arts & music festival thrown together by a couple of budding entrepreneurs, became the largest symbol of counterculture in America's history. A once in a lifetime event, whose spontaneity will never be repeated no matter how much money is spent in an effort to do so. The reality is; the sponsors of this years attempted re-creation know this. They're not interested in reliving the Peace, Love, and Harmony of Max Yasgur's Farm. They're relying on us, the consumers, to hand over our money so that they can profit from our desires to be included in something we missed the first time around.
Not me, I'm not buying it.
In fact, what I did buy took me by surprise. I've just had my Woodstock without even realizing it (or for that matter attempting it). On Sat. June 26, 1999 I attended this years installment of the Guinness Fleadh (pronounced Flah). Sure it was a corporate sponsored event held for the purpose of making money, but it didn't hide behind false pretenses and borrowed titles. It told it like it was; An Irish festival promoting music, culture, and heritage.
Trimmed down from it's original 3 day 1 city beginnings of several years ago, the current 1 day 4 city (not counting a stop across the pond) tour was a well designed package that more than accomplished its intentions. New York was the final stop in the USA for the festival, which I attended with a friend.
I can sum it up in 4 words: Heat, Beer, Music, Sex.
The Heat: Being a triple H (Hazy, Hot, & Humid) day with temperatures holding steady in the mid-90s, there was no way to escape the heat. Those that tried to by consuming mass quantities of Guinness soon found the blazing sun high in the cloudless sky an omnipresent evil beating them down until they lay prone in the burnt grass and dusty baked ground. Criticism #1 - Festival planners did not have the foresight to set apart an area for either sprinklers or mist-ers. Perhaps their take on such an amenity was the would be mud byproduct and the mess that could ensue (flashes of Woodstock?). However, two troughs with 5 water fountian heads each was not the answer for approximately 50,000+ people seeking relief. Another negative was the $3.00 price tag for a bottle of water. Those smart enough to pace their alcoholic intake along with alternating their beer consumption with other fluids, combined with timely visits to the water troughs for a body splash down, were able to enjoy the day in comparable favor to that of one spent at the beach.
The Beer: Guinness and Harp as well as some other non-alcoholic brew that I didn't pay any attention to for $6.00 a pint. So, how did I start my day? In pure festival fashion; at the "pour your own" tent. My friend and I received instructions on how to "pour the perfect pint" of Guinness. Successfully completing the 5 minute course we happily headed off to peruse the concessions. Along with many other well staffed pre-poured beer tents (most attended by pretty girls in soaking wet Guinness T-shirts!), there were food stands galore with plenty of variety to choose from; Irish, Italian, Mexican, Chinese, American, etc. Criticism #2 - No picnic tables (if there were, we never saw/found them). We had to "enjoy" our lunch (& dinner) sitting on the ground wherever we were able to find enough grass cover. Aside from that, the food was exceptionally good and reasonably priced while the beer was more delicious than it had a right to be.
The Music: With 31 Artists on 3 stages delivering continuous music for over 12 hours, it was virtually impossible to catch everything. Some bouncing around was the order of the day and if there wasn't anyone you planned to see playing at a certain time, then it was hit or miss. A brief synopsis of the Artists we saw;
Lucinda Williams (Main stage); This country rocker and her 5 (?) piece band started slowly. After a few songs Lucinda invited Elvis Costello on stage for "Drunken Angel" & "Greenville" from there they flat out rocked, closing with a blazing 15 minute rendition of "Joy" where everyone took the obligatory solo. Very enjoyable, Highly recommended.
Blink (Small "Village Voice" stage); I received a brief 'Blink' bio from the guy to my left (couple of movie soundtracks- blew him away last year, etc.) but none of this prepared me for the fierce onslaught of these guitar heavy rock maniacs. Midway through the first song ("Will You Die For Me" - I think was the name) as the lead singer/guitarist's veins were bulging from his neck while pouring every ounce of energy into spitting out the lyrics, I wondered if he had the stamina to survive a whole set. Surely they would have to slow it down a bit. Wrong on both counts. 5 songs later a Mosh pit formed which grew larger and rowdier with each of the next 5 songs as the band and the moshers drove each other into a dynamic furry of energy and release through controlled destructive tendencies. A great set to pump up the day.
Candy Butchers (Small (VV) stage): Formula power-pop from a trio who use 2 session men for accompanying horns every few songs. Nothing spectacular about them except for the money being spent on the corporate push to break these guys. Besides reminding us repeatedly of their name and the fact that their disc will be released on an unknown record label (which is actually owned by one of the 5 major labels) they also handed out free CD's. The fix is in, and I'm not impressed.
The Saw Doctors (Main stage): A crowd favorite and deservedly so. The masses were singing, dancing, and crowd surfing from the opening bars of "Green and Red of Mayo" right through their set of favorites taken from "Sing A Powerful Song" (the 1997 US release of songs culled from their 3 Ireland/UK discs) and the newest CD "Songs from Sun Street". At one point as the entire crowd was jumping up and down in unison upon the heat baked clay of ground and grass, a cloud of dust began to rise until it nearly obscured the stage. Cause for more beer and good cheer.
Richard Thompson (Medium "VH-1" stage): Maybe it was the good buzz we had going, or the long hike across the whole fairgrounds to get to the stage, but we found Richard Thompson (an artist we hold with the highest respect) uninspired. After 3 lifeless, boring songs we left back for the small stage.
Luka Bloom (Small stage): He was Awesome. So captured was I by the intensity of his solo acoustic style, that I mentally made note to thank the girl who turned me on to him (Thank You DiDi!). We caught about 5 songs from his set, and as Eileen Ivers joined him on stage we reluctantly left to make our way back over the the VH-1 stage.
Black 47 (Medium stage): For some unknown reason there was a delay. When Black 47 took the stage at 9:10 (approx. 15 minutes late) the sound was in disarray. Not quite loud enough to begin with (prompting the crowd to chant "Turn it up") and the horns and the Uilleann pipes were lost in the mix. Finally after "Green Suede Shoes" and "Reels" they seemed to have solved the sound problems. Boppin' & swaying to the Irish reggae version of Bob Marleys "Three Little Birds" we once again needed to navigate the crowd in order to get back across the grounds to the Main stage. A shame because Black 47 sounded to be delivering a smokin' hot set.
Elvis Costello (Main stage): Elvis Costello took the stage with his long time pianist Steve Nieve at 10:00 PM. Starting with "Pads, Paws, and Claws" he ripped through a 20 song set of "Greatest Hits" (Alison, Veronica, Every Day I Write The Book), New soundtrack releases ("I'll Never Fall In Love Again" from Austin Powers, "She" from Notting Hill), and personal favorites ("Radio Sweetheart/Jackie Wilson Said", "New Amsterdam/You've Got To Hide Your Love Away"). Using just his voice, guitar, and Steve's piano Elvis wowed the crowd with his ability to Rock just as hard as he can croon. He turned "(What's So Funny 'bout) Peace, Love, and Understanding?" into an Anthem that deserves attention. He melted the crowd with a sparse yet beautiful re-arrangement of "I Still Have That Other Girl" (His Grammy award winning song co-written with Burt Bacharach and featured on their "Painted From Memory" disc) which found his vocals in top form as they soared with more intensity then anybody there actually realized he was capable of. Closing with a disjointed version of "Pump It Up" for which he strapped on the old electric telecaster, Elvis looked to be enjoying himself as he and Steve couldn't quite get on the same page, bewildering and puzzling the audience to the delight of the beloved entertainer. The other Elvis and Frankie should have been proud.
The Sex: What can I say? Guys, Girls, Heat, Guinness, sweat & beer soaked sparse, suggestive, seductive, and revealing clothes was the order of the day. Combined with the crush of the crowd and you can see why it was a hotbed of sexual lust. Consider this; If you were there, you were a potential pick-up victim, and I mean that in the nicest way. Everyone there was friendly (some overfriendly), congenial, polite, nice, and considerate. Everyone was there to have a good time. Many times throughout the day I was reminded of the old CSN&Y song "Love The One You're With", because it seemed to be the theme of the day. Everyone was very touchy, feelie. As people walked through the crowds it was not unusual (in fact it was common) to have hands run across your body. When people were crowd surfing it was more of a group grope type of thing that was not limited by gender, Guys crowd surfing were being grabbed by girls just as much as the girls were being grabbed by guys. I witnessed several girls jump into Mosh pits only to be felt up and down in ways people would think to be obscene, yet in the frivolity and spirit of the day, these girls enjoyed themselves without threat of physical repercussions. Those hot and horny enough to want greater physical contact did so out of the eye shot of the masses. Discretion may have been the rule of intimacy, but for everything else, it was anything goes, yet it was all conducted with a style and grace that could only put a smile on your face.
And after everything I experienced at the Fleadh, the blistering Heat, the fabulous Beer, the unforgettable Music, and the wanton Sexual atmosphere, I walked out of there with a smile on my face. Take that Woodstock '99.

---
If you have enjoyed what you've read, Please stop by here to the Tremens pages often, for we will continue to update these musings at various intervals. If you wish to comment/respond to anything posted to this page, feel free to write us at: include the word Tremens in the subject line, and we just might post it along side our foray's into the written word.
---
Since you've read this far, Don't forget to Sign Up Now so that you can receive the *FREE* IndepenDisc Music Club 'Zine each month and "Expand your musical horizon...".

Plus every Monday morning you will receive a URL link that will stream to you in RealAudio™ format, the "Song of the Week". A song a week comprised of the music found on these pages to help you start your week on a good [musical] note.
---